Nothing publicly scheduled for the next two weeks, but the week after she starts a series of concerts.
Nov 1-4, Far Niente Vineyard, Private event, possibly part of "Live In The Vineyard", confirmed 1-2.
Upcoming events in November :
Nov 12, The Hotel Cafe, Info, 21+, $12.50 [Says no video, flash photography]
Nov 15, ALLEN STONE + invités:  Tingsek, Haley Reinhart, Le Cabaret du Mile End, Montréal, 18/+ [Tickets]
Nov 16, Opening for Allen Stone, Port City Music Hall, Portland ME, 18/+, Info Tickets (Probably replaces Selah Sue)
Nov 17,  Opening for Allen Stone, The Sinclair, Cambridge, MA Stone Info Tickets
October 28
October 29
November 6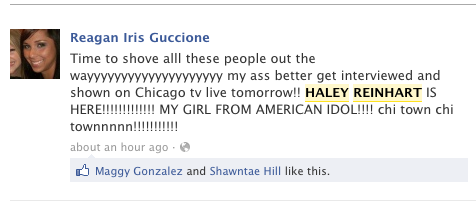 Late video from Tusk of Haley at her album debut, "Oh Darling!"
November 10
Real Music Live Behind The Scenes video [very short]
Tusk HQ videos from Hollywood debut party.
Hit The Ground Runnin'
House Of The Rising Sun
Unconfirmed rumor she may be appearing in a parade 1 2 .  Presumed to be the Chicago McDonalds Thanksgiving Day parade.   If so, will be broadcast nationally on WGM.
Credits
As usual, information captured by a cast of many including stairway2halien, init2winit, pj_haleyrfan, addicted2haley, migueldomcom, etc., collected, and posted here.